Ready for the world: Mentorship helps veterans succeed after military life
November 11, 2020 | By Grace L. Williams
Paul Anderson has had an affinity for life above the clouds since he was an Air Force Academy student in 1996. Over the dozen-plus years that followed, his military stint took him around the world, including stations in Hawaii and Egypt. In 2016, Anderson decided he was ready for a change. He didn't just want to leave the military — he wanted to find a new career path outside  aviation. "Flying a passenger airline wasn't the career path that I wanted out of the service," he says. "As much as I loved my flying time, I wanted to do something else."
For veterans, transitioning from the military to the private sector can be a frustrating process. Skills like networking don't always come naturally to people whose only working experience is limited to the strict hierarchy of the military.
"In the military, I was an officer. I'm used to having a rank, and when you have a rank, and you say something needs to get done, it brings a level of authority with it," he says. "That doesn't exist in the civilian industry."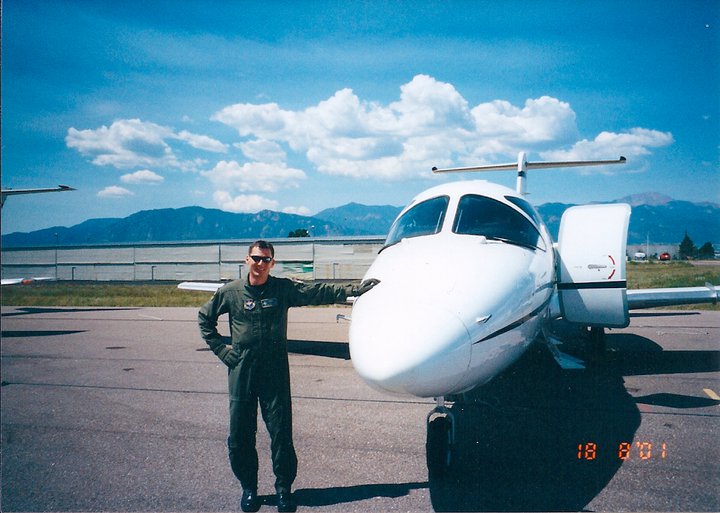 That's where American Corporate Partners (ACP) steps in. Founded in 2008 by former investment banker Sidney E. Goodfriend and six corporate partners, the program helps bring veterans into the civilian workforce by connecting them with executive mentors from the program's 90 corporate partners. Mentors help vets navigate the corporate world, build rock-solid resumes and make connections. More than 17,000 veterans, and several hundred military spouses, have gone through the ACP mentorship program, which typically lasts one year. At Mastercard, 90 employees have worked with veterans this year, and have helped 500 veterans return to civilian life over the last five years. 
"When service members are separating from the military, there are a variety of challenges that they face, including how to translate their skills," says Katherine Davisson, CEO of ACP. "This is why pairing veterans with mentors who have real-world, private sector experience is valuable."
When Anderson signed on with the program, he was paired with Jennifer Rademaker, executive vice president for customer delivery at Mastercard. Rademaker, an experienced mentor, committed to checking in with and advising Anderson once a week to help him chart his new career path.
One challenge that Anderson and other former military participants face is translating active-duty work into civilian terms. When Anderson talked about running exercises that involved the simulated coordination of 50 or more aircraft coming from different locations, Rademaker quickly made the connection: "You're a project manager. What you're describing is project management."
When Anderson took a road trip from his home in Philadelphia to New England to take in some fall foliage, Rademaker encouraged him to visit Mastercard's Purchase, N.Y. corporate headquarters, where she lined up several informational interviews for Anderson. Although he went in understanding that nothing was a given, he left with a job offer and now works to bring real-time payments to merchants.
The pandemic has also meant veterans turning to the program in droves. Davisson says ACP has seen a surge in applications this summer: "When we review those applications, 25% of the veteran applicants have self-disclosed as either unemployed or working part-time."
 The spike in interest this year equals more opportunity to pair veterans with professionals who can help them network to better showcase their skills and strengths to the world outside the military. "Carrying a machine gun and marching information isn't what a Fortune 500 company needs," Anderson says, "but being able to use my peripheral senses and understand how a situation is developing or that maybe we need to get ahead of something. We are trained to sell ourselves by the hard skills, and that's typically not what corporate America is looking for. Having someone help you understand what you did during your service that can benefit a corporation today and in the private industry is probably the most important thing."