Trust
For Madrid's hospitality industry, hope and anxiety are on the menu
August 2, 2021 | By Sophie Hares

 As the city bakes in the summer heat, orders fly for burritos, pancakes and stacked bacon cheeseburgers on Roll Madrid's shaded terrace.
But for owners Ryan Day and his wife Claudia Ruiz, it's still not back to normal. They are operating their three American-inspired restaurants on shortened schedules to keep a lid on costs as the pandemic drags on. 
The couple eagerly awaits the end of COVID restrictions so they can finally restart the bluegrass nights, craft beer tastings and poetry readings, which were popular with both locals and expats before the crisis devastated Madrid's hospitality industry. 
"We're all just coming out of our holding patterns," says Day, who is also an assistant professor at St. Louis University's Madrid campus. "I guess I'm alternating every day between being very optimistic and kind of terrified." 
Their story is common throughout the city. Despite Madrileños' passion for food and late-night socializing, hotels, galleries, tourist attractions and restaurants have struggled to stay afloat. An estimated 85,000 businesses in the sector shuttered across the country in 2020, according to trade group Hostelería de España.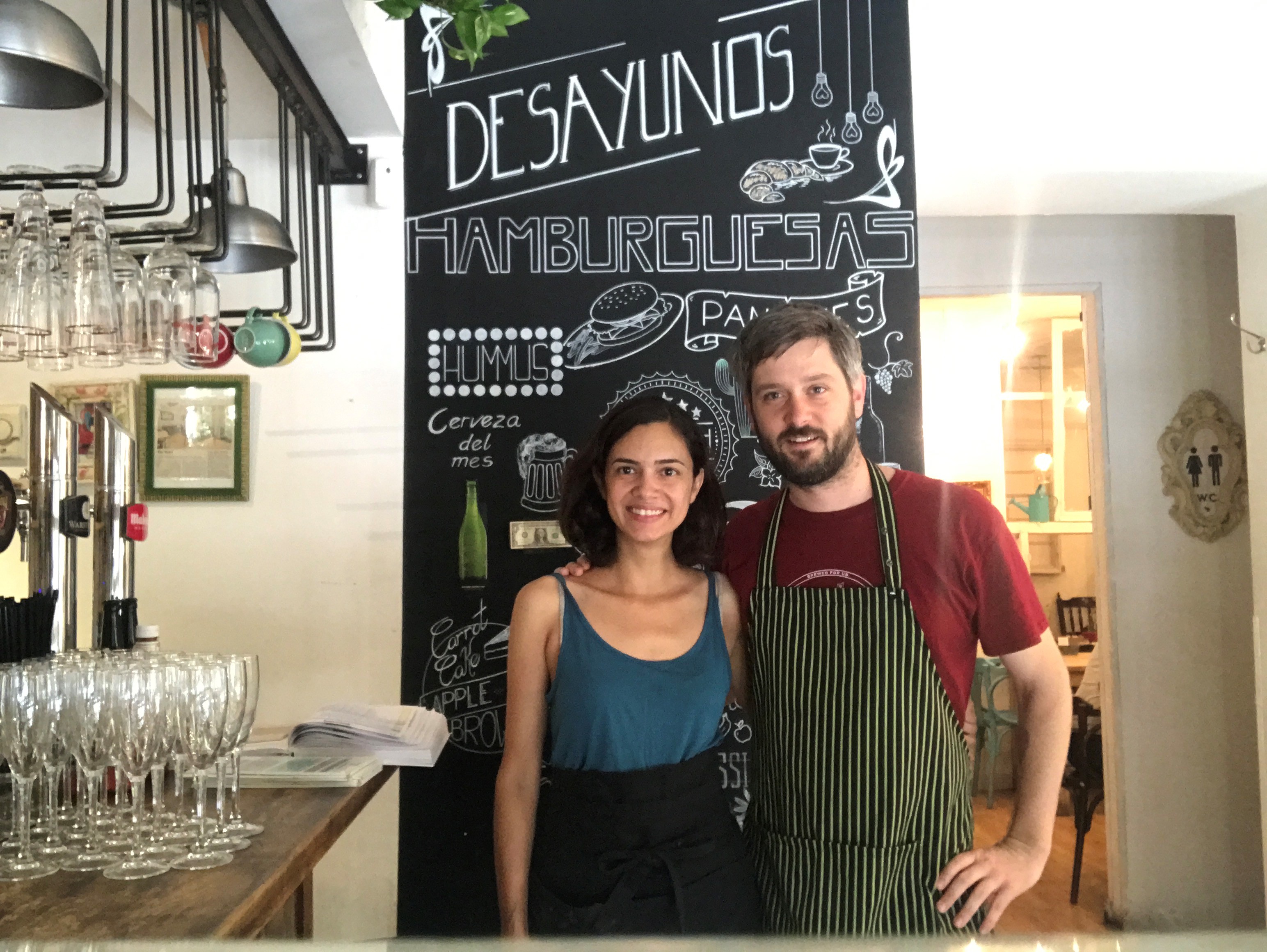 Ryan Day and Claudia Ruiz are husband-and-wife Madrid restaurateurs who are looking forward to the end of COVID restrictions. (Credit: Ryan Day)
Ranked the second-most visited country worldwide before the pandemic, Spain expects its tourist numbers to be down by half this year, an estimate Tourism Minister Reyes Maroto said in March would be an "achievement." That was before the Delta variant started spiking caseloads again. Leisure travel is coming back, though inconsistently, across Europe, as international travel remains a challenge. Domestic flights are providing a bright spot, with Spain, Italy and France seeing more domestic bookings by May than they did pre-pandemic.
Yet as the industry grapples with starting anew, it has a rare opportunity to reshape its future, using new approaches to how its businesses operate and embracing technology to bring in new customers. Tourism experts are now urging businesses to rethink how to incorporate COVID-safe measures with digital innovations to succeed well beyond the pandemic. 
"The key is to reinvent yourself to become more competitive than ever," says Mar de Miguel, executive vice president of the Hotel Business Association of Madrid. 
Some hotels are encouraging guests to check-in and order room service via their mobile phones. Others are looking to develop secure facial recognition and voice-controlled systems. One central Madrid hotel even installed a robot earlier this year to welcome guests, explaining its COVID restrictions and provide city tips. 
Daniel Nieto, director of government engagement for Mastercard Iberia, believes data can help build more resilience into the tourism industry. His team is providing Madrid officials with real-time data showing how the crisis has affected tourist spending patterns in the city. 
"Data insights can help guide smart investment, while digitization creates better experiences for tourists and more efficiencies across the industry," he says. "This is about more than reenergizing tourism as borders begin to open – this is about reshaping the tourism of tomorrow, making it more sustainable, inclusive and innovative."
For example, last year's lockdown spurred Thyssen-Bornemisza National Museum to speed up plans to digitize some of its vast collections, which includes masterpieces by Van Gogh, Dali and Rembrandt. 
Since then, millions of art lovers have toured its galleries virtually to learn more about the artists. The museum wants to maintain its hybrid model, tailoring interactive tours for schoolchildren around the world even after the pandemic fades. 
"Digitization is not only a matter of applying technology; it's a profound cultural change of the museum as an institution," says Evelio Acevedo, managing director of the Thyssen. 
Similarly, restaurants are permanently adopting contactless payments, online delivery platforms and other technological strategies that helped during the crisis, says Lourdes Plana, president of the Royal Academy of Gastronomy.
Plana's organization is now promoting Spanish cuisine via online conferences, webinars and YouTube videos. As she puts it: "Digitization has come to stay and it's affecting the entire sector." 
The pandemic has also changed the culture of hospitality, notably the late-night meals for which the country is famous. Some restaurant workers, once used to working well past midnight, have welcomed the shorter operating hours. Eating earlier can improve quality of sleep and metabolism, Plana says, adding "In short, the schedules in Spain have been 'Europeanized.'"
For Day, co-owner of the Roll Madrid restaurant, the crisis is a chance to rethink how to keep providing quality local and craft food to customers as the city's bars and restaurants gradually get back on their feet.
"I have a hard time imagining Spain without people on the streets," he says. "That's just our lifestyle and I don't see that going anywhere."