Inclusion
Leadership meets the pandemic's challenges
January 21, 2021 | By Sophie Hares
Before COVID-19, Thelma Martinez de Anda's 5-year-old business was on the rise. Her company, Koben Food Service, supplied prepared salads, sandwiches and salsas in Honduras to restaurants, fast food chains and convenience stores.
But suddenly, many of those shops were forced to shut their doors as the Honduran government tried to slow the spread of the disease through lockdowns.
Rather than panic, Martinez knew she would be able to weather the storm thanks, in part, to her time with LEADS Mujer, a partnership between Mastercard and Costa Rica's INCAE Business School that helps female entrepreneurs across Central America strengthen their business skills.
"I applied everything I learned – above all, to be flexible when it comes to change," says Martinez, 44.
That meant pivoting her business. Using her existing suppliers, she started delivering boxes packed with fresh fruit and vegetables to families stuck at home in the capital, Tegucigalpa. She had to cut her staff from 14 to 10, but the home deliveries kept the company going through the worst of the crisis that has destroyed many small businesses.
Latin America has one of the highest rates of early-stage entrepreneurship by women in the world, but the vast majority of women find it difficult to build their businesses beyond small-scale and locally focused microenterprises, typically employing less than 10 people. That's because they lack access to training and tools, and they are often also shouldering the bulk of childcare and domestic responsibilities. And COVID-19 could set back an entire generation of female entrepreneurs, with 87% of female business owners saying they have been adversely affected by the health crisis, according to the 2020 Mastercard Index of Women Entrepreneurs.
Programs such as LEADS Mujer – which combines the acronym for "Leadership, Entrepreneurship, Advancement, Development and Sustainability" with the Spanish word for women – provide targeted training to give women the opportunity to make better informed decisions and grow their businesses. For example,  the program focuses on how to boost production capacity, how to effectively market products and how to track financial indicators.
Had the crisis hit two years earlier, Martinez may not have had the skills she needed to rethink her business on the fly. After spending 14 years in the poultry industry heading up processing and quality control, she decided to go into business for herself with Koben, a company she started with her father.
But before she entered LEADS Mujer, she was dependent on a single client and felt her finance and accounting skills weren't as strong as they could be. So in 2019, she applied to the program and was one of 40 women who were accepted that year.
Ten of the LEADS Mujer cohort participants go on to receive more intensive one-on-one mentorship training from businesspeople. Finally, five of the women are chosen to make "Shark Tank"-style presentations to a panel of academic and business experts.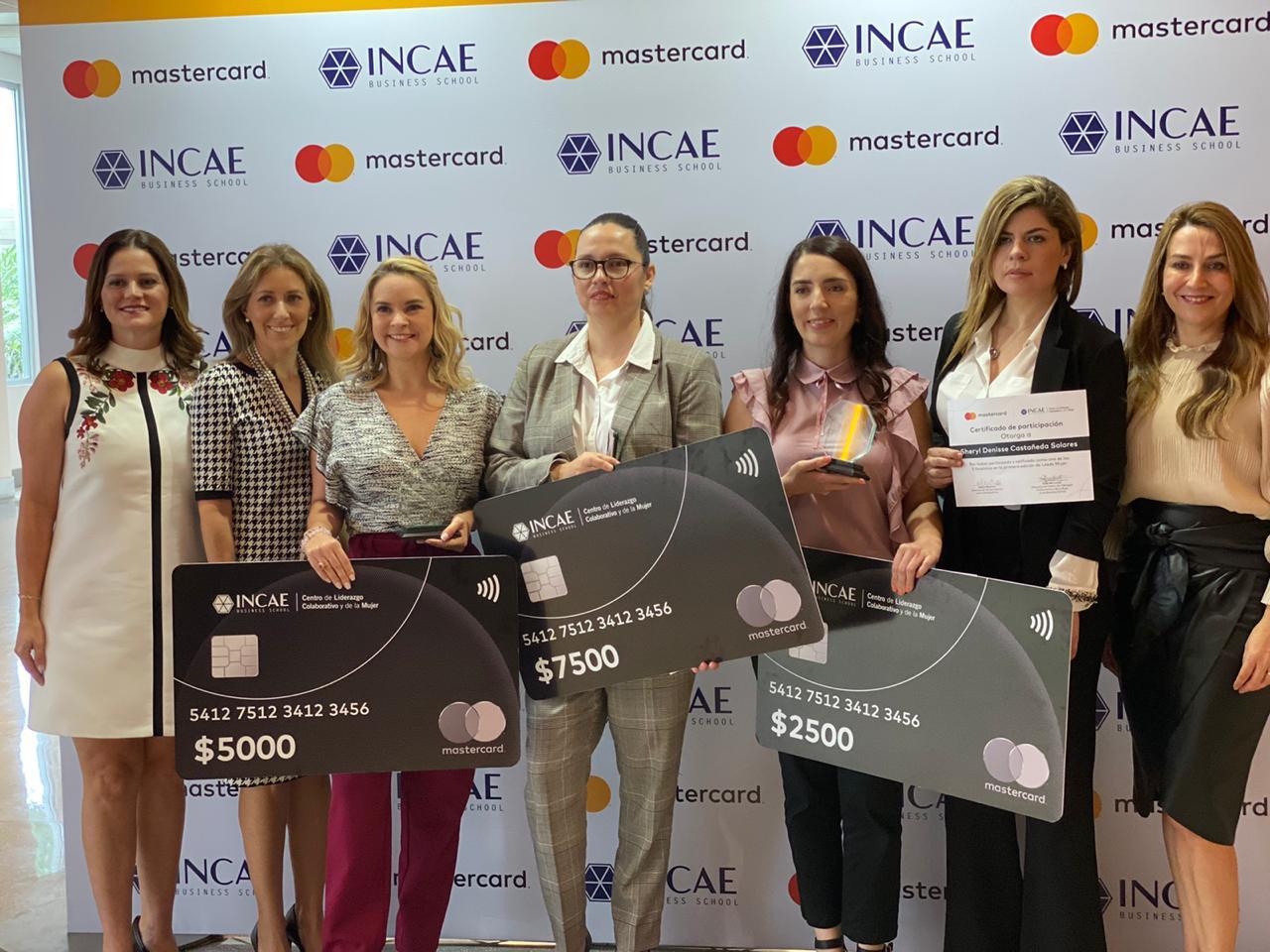 Martinez took the top prize at the end of the course for her proposal showing how she planned to bolster Koben's client portfolio and expand the business by buying directly from farmers, passing along to them some of the cost savings from eliminating distributors. In addition to the knowledge she gained, Martinez walked away with a grant of $7,500 to help grow her business.
The Mastercard Center for Inclusive Growth and INCAE has also partnered with ConnectAmericas for Women of the Inter-American Development Bank to offer the Virtual Accelerator, an on-demand digital version of the program to share key training sessions, webinars and a network of experts for business advice.
"A community that empowers women to become entrepreneurs is not only a more equitable one – it's one that is better positioned to grow and thrive, creating more opportunities for everyone," says Luz Gomez, director of LAC programs at Mastercard.
The 40 women in Martinez's cohort have since formed a tight-knit support group staying in touch on WhatsApp, passing on tips and suggestions for how to help each other grow their businesses.
Martinez's advice for other female entrepreneurs: Have a clear understanding of their finances and market in order to efficiently drive their companies forward.
"Trust that you can," she says, "and yes, you'll do it."