Passions
Why Alexi Pappas thinks the marathon is a team sport
November 7, 2022 | By Vicki Hyman
Alexi Pappas' father likes to say she ran her first marathon at age eight. The Napa Valley Marathon was actually her father's first — and his last — marathon, but Pappas did run her first 5K that day, crossing the finish line with her brother and winning her age division.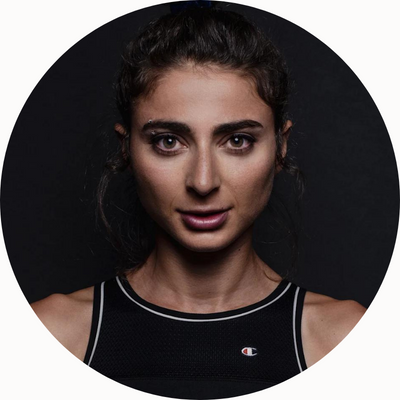 It would be the first of many victories for the Olympian, but she wouldn't actually run her first marathon until 20 years later in Chicago. "It felt like a thing I knew I was destined for and doomed for," says Pappas, laughing, in a phone interview two days before running the New York City Marathon Sunday.
Pappas, a three-time All-American at Dartmouth University and the University of Oregon, represented Greece – her grandmother emigrated to the U.S. from Rhodes – in the 2016 Rio Olympics. Since then, she has co-created and starred in two feature films, "Olympic Dreams" and "Tracktown," and in 2021 released a memoir, "Bravey: Chasing Dreams, Befriending Pain, and Other Big Ideas," about the trauma of losing her mother to suicide when she was four, and her subsequent drive — and struggle — to define her worth in sports.
Pappas, who plans to release a version of "Bravey" for young adults and is working on a podcast about mentorship that is expected to launch next year, spoke to the Mastercard Newsroom on Friday. The interview has been edited for length and clarity.
You've competed at the university level across a variety of distances, ran at the Olympics in the 10,000 meter and hold the Greek national record for that distance. Why did you decide to tackle the marathon?
Pappas: A marathon is like a rite of passage for so many long distance runners. The marathon to me feels like it's more about joining a tradition of running and a bigger community. Growing up you see, like, maybe your friend or your parents or your uncle, somebody you know ran a marathon, so it feels like you're joining a bigger tradition. So it's been an itch of mine.
Other than the physiological demands of running a marathon versus running shorter distances, what's the difference? I imagine there's more of an opportunity to engage with the crowd and the city itself.
Pappas; On the track, you're almost like in a meditative stream because you're seeing the same thing over and over again. With a marathon, I got this advice from Deena Kastor, who is a mentor to me and a longtime American record holder for the marathon. She said to use the scenery and the crowds as fuel and as distraction when you're in pain. She said, "If you see a bird fly overhead, ask yourself, 'Where did that bird come from? Where is it going? Where does it live? Is this its normal routine? Is it going on a special trip?'" And before you know it, three minutes go by and that's about how long a rough patch might last … Taking in the cities or the places you're running in as opportunities and being a part of it instead of the isolating nature that you can approach running with is such a beautiful way to handle pain and also embrace that every marathon is different.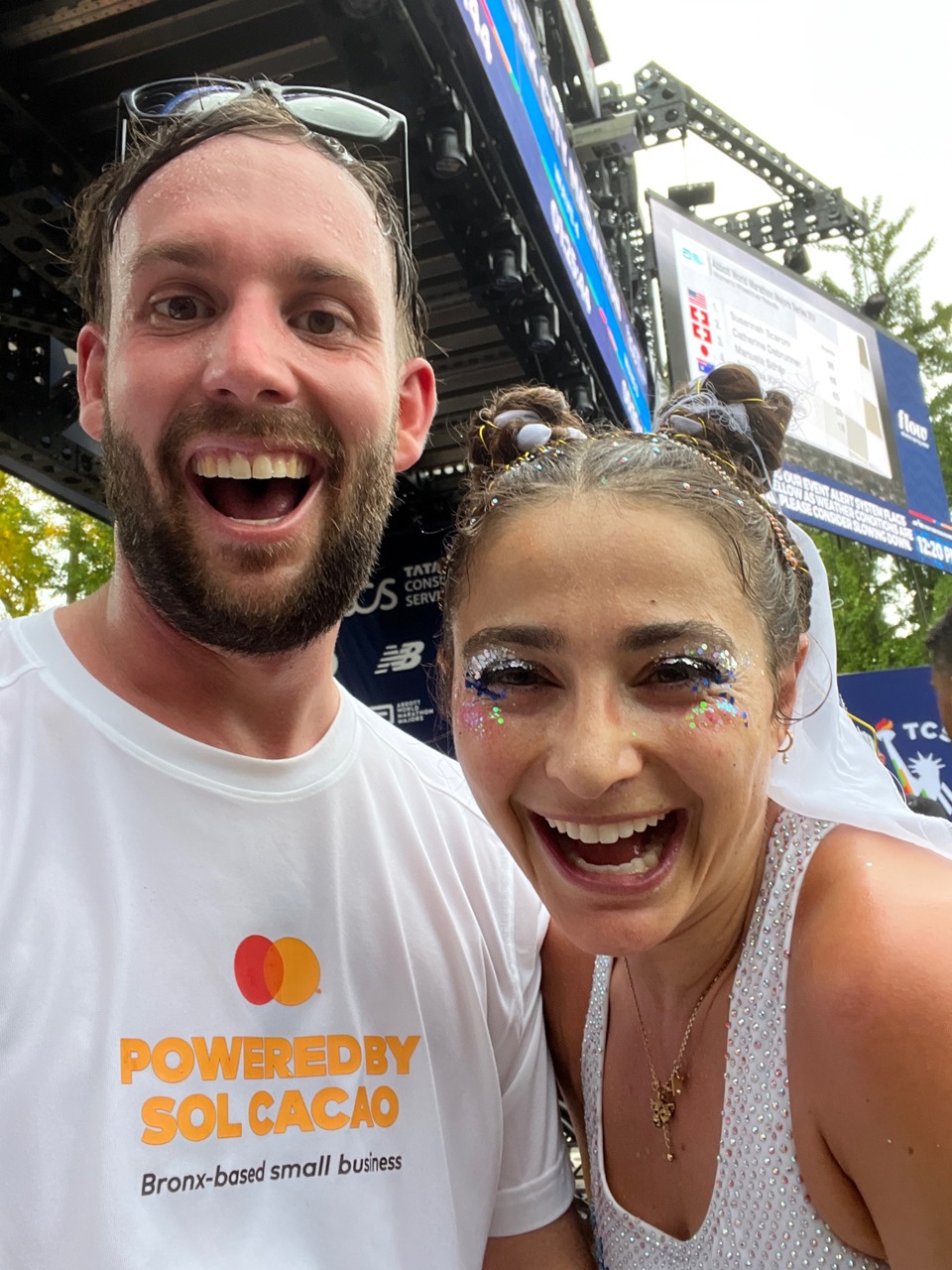 After pausing at the Mastercard Cheer Zone at mile eight, Alexi Pappas picked up a running mate – Mastercard employee Nick Richard from Toronto, a former physical education teacher running his first marathon. "What was special was being a teammate to Nick because he didn't know what to expect. We just really made sure he moderated, he fueled properly and when he hit rough patches, I talked him through them and stayed by his side. He ran a stellar debut marathon. It left him wanting to run another one, which is always a good sign." (Photo courtesy Nick Richard)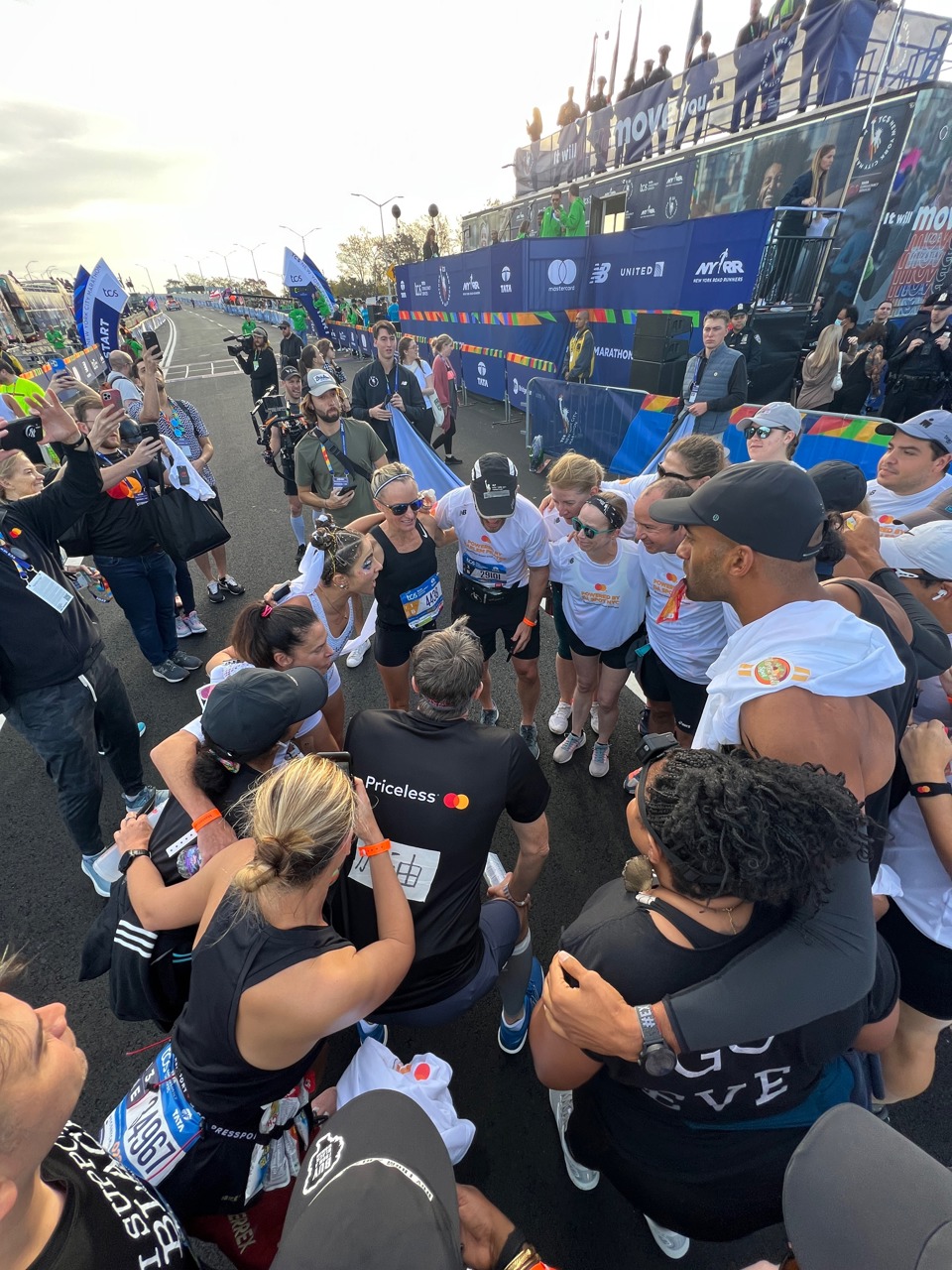 At the foot of the Verrazano-Narrows Bridge on Staten Island, Alexi Pappas, with white veil at top left, and former New York City Marathon winner Shalane Flanagan, to Pappas' left, get fellow runners hyped to start the race.  (Photo courtesy Mastercard)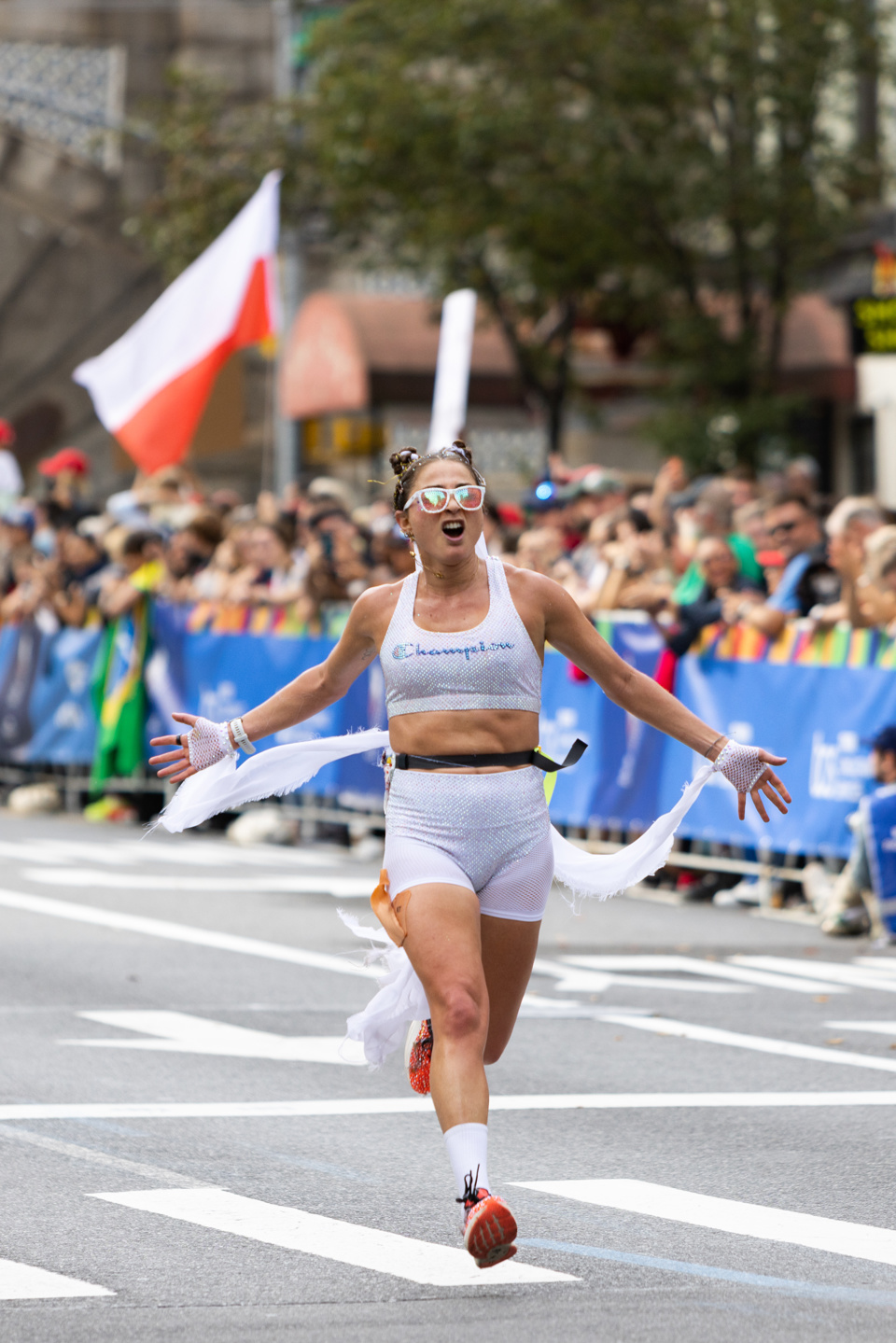 Alexi Pappas at mile 16 of the New York City Marathon. (Photo credit: Jonathan Heisler)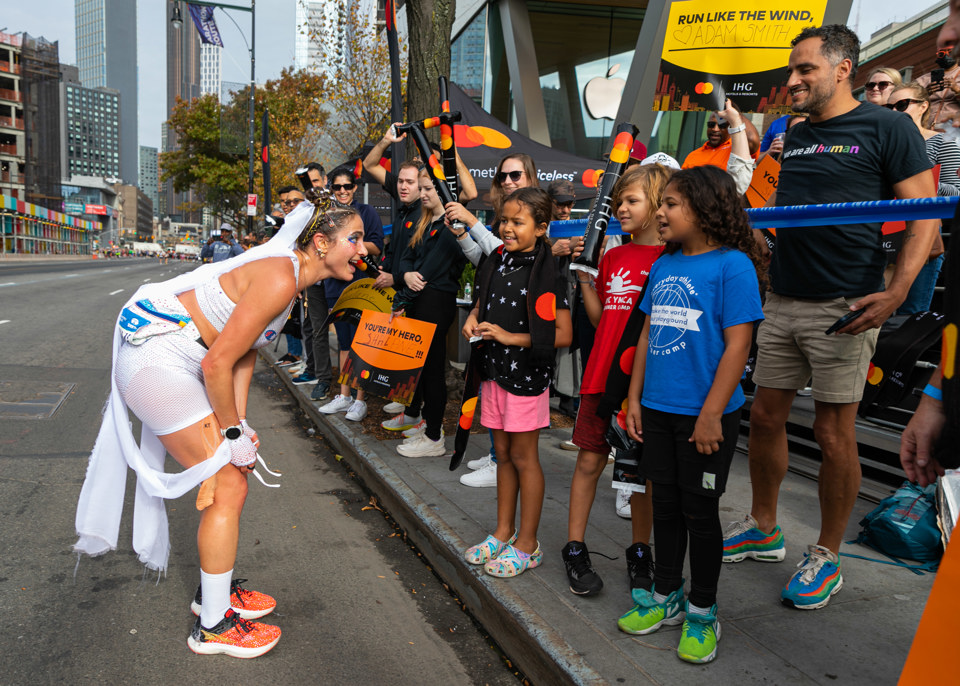 Alexi Pappas stops to chat with marathon fans at mile marker 8 of the New York City Marathon. (Photo credit: Trent Campbell)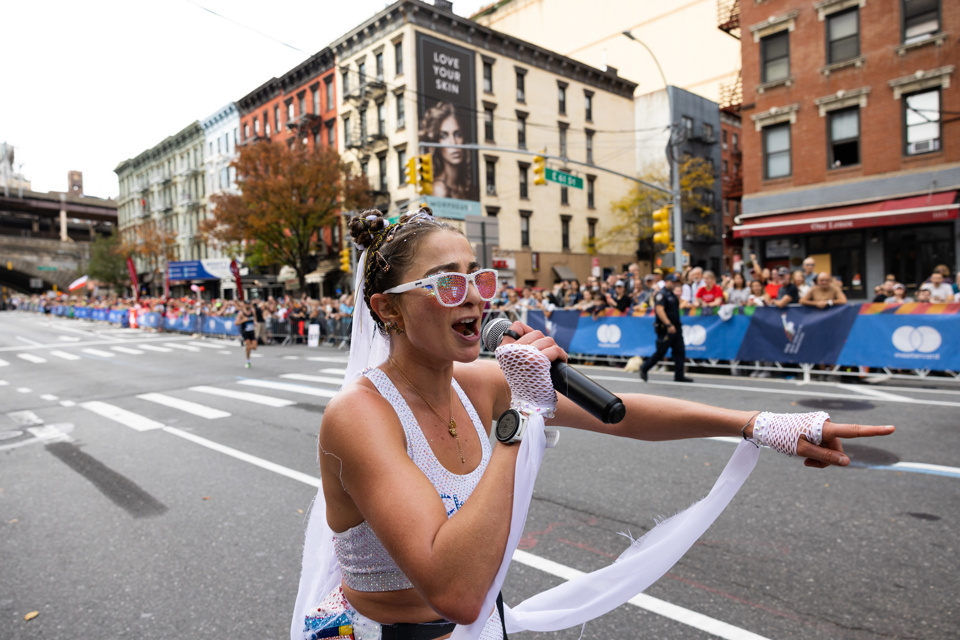 Alexi Pappas takes over the mic at the mile 16 Cheer Zone. (Photo credit: Jonathan Heisler)
I'm sure you have lots of tips for training regimens and diet, but what about mental fitness? What advice can you give for getting in the right mindset for running a marathon?
Pappas: Do what's useful for you. That's the biggest thing. What's useful for you is relative and is unique to you. So for example, some people might feel very energized by walking around New York City all week and taking in the crowd and really immersing yourself in the city. Someone else might have this weekend as the one opportunity they get to cuddle up and watch television in a hotel room and get room service. And there's no right way to prepare. I think it's really like what is expansive to you.
You can specifically visualize some of the moments where you might anticipate there will be challenges. For example, in New York, there are these bridges, and those are moments that you can, you know, imagine might be challenging because they're like hills. And so imagine yourself summiting one of those hills, one of those bridges, and getting over it, going over that hill and going into the downhill part. Once the moment comes in the race, you will have already done the exercise of seeing yourself through that challenge. And you'll already have made the decision that you could do it.
People don't necessarily think of a marathon as a team effort, but it can be. Earlier this year you ran the Boston and London marathons with a visually-impaired runner you had met through a mutual friend. Can you tell me what that experience was like?
With Lisa, the woman I guide with, it was truly a literal team effort. I am really privileged and thankful to be able to take care of her from the standpoint of helping her safely move through the course. It makes such a big difference over the course of 26.2 miles, helping her get fluids, grabbing her hands and make sure she didn't trip over any train tracks or those things that might really trip you up physically. Then there's a whole mental side to the sport as well. I was quite literally telling her what I was able to see. And so in that sense, I was like a teammate mentally. I just tried my best to give her moments of spontaneous joy or visualizations and things that she couldn't see … just sort of taking her on a journey and using my own imagination to take her places literally and mentally.
I heard you had another bonding experience last year at the New York City Marathon with one of the Priceless Start runners, who are some of the first to start the race.
Pappas: I was supposed to run with the elite athletes, about 30 minutes after the Priceless Start, but I had surgery less than a year prior and I wasn't able to run at their pace … I was just really nervous. I'm going to be alone if I run slower than seven minutes. And my mentor where I live was like, "You gotta do it, this is such a rare opportunity to have the whole streets of New York and all the people, you know, cheering and everything." And so I hired a makeup designer to put glitter and stars on my face because I wanted to indicate to myself and also to the crowd who might recognize me that it was intentional and I was okay.
When I started the race, I was alone and then I came across Vito, who was one of the runners with the Priceless Start. He'd never run alone either. He was used to doing it with the crowd. We ended up running together and he said it was the best experience in his life. And I kind of was like his hype woman and got the crowds excited and helped him look good. We just became teammates in the moment. He literally emails me all the time about his training. I was really grateful for him because it would have been a different experience without him.
What does the future hold for you in terms of running? What do you think you're going to be doing in five years?
Pappas: I may consider guiding the Paralympics because I really, really feel motivated to help other people achieve their goals. I really feel happy with what I've done competitively and honestly, guiding would make me feel competitive because they are out there to win medals.