Loyalty
Mass personalization is not an oxymoron. It's the future
November 17, 2022 | By Vicki Hyman

Why do some of our favorite websites act like it's okay not to know us?
"We're different people — we have different interests, different hobbies, different things we care about," says Ori Bauer, CEO of Dynamic Yield. "When we get to the digital world, there is no reason for the digital experience to be the same for me and you."
Yet many websites today still deliver static experiences and generic offers. This was the personalization problem Bauer's company sought to fix starting a decade ago — and it was onto something.
Founded in Tel Aviv in 2012, Dynamic Yield is a software-as-a-service company that uses tools including A/B testing and AI to customize all kinds of interactions — through a company's website, on social media, via email, text and chat apps and, increasingly in real life. The company now helps more than 400 global brands simply, quickly and seamlessly personalize experiences for their customers.
In fact, McDonald's purchased the company in 2019 to transform its drive-through experience and in-store digital ordering kiosks. Dynamic Yield helps McDonald's deliver recommendations based on the time of day, current restaurant traffic, and popularity. For example, a McDonald's next to a school might queue up Happy Meal suggestions in the afternoon.
In late 2021, McDonald's sold Dynamic Yield to Mastercard (but remains a client, with the technology used in thousands of locations). The purchase followed other Mastercard investments in the consumer engagement space, including the acquisition of loyalty and engagement platform SessionM in 2019, as the company has ramped  up its services business, which has grown to 35% of its revenue. 
Not simply a nice-to-have, research shows that personalization can reinforce brand loyalty and grow revenue. According to a 2021 McKinsey report, more than three-quarters of consumers surveyed said personalized communications made them more likely to purchase from a brand, recommend it, and buy from it again.
This creates a cycle where loyalty and personalization drive each other, Bauer says. A more tailored experience makes us more likely to buy, which produces more data that helps a business refine its digital services to create even more meaningful relationships with consumers.
'Try to do amazing things'
The company's former Chief Technology Officer, Bauer is a software developer by trade — despite the CEO title, he still dons his classic black t-shirt, jeans and sneakers — with a track record that includes helping build three startups that have been acquired five times. In fact, in his first week at Dynamic Yield in 2018, he was asked to join one of the first calls with McDonald's, then a prospect, that ultimately resulted in a purchase offer.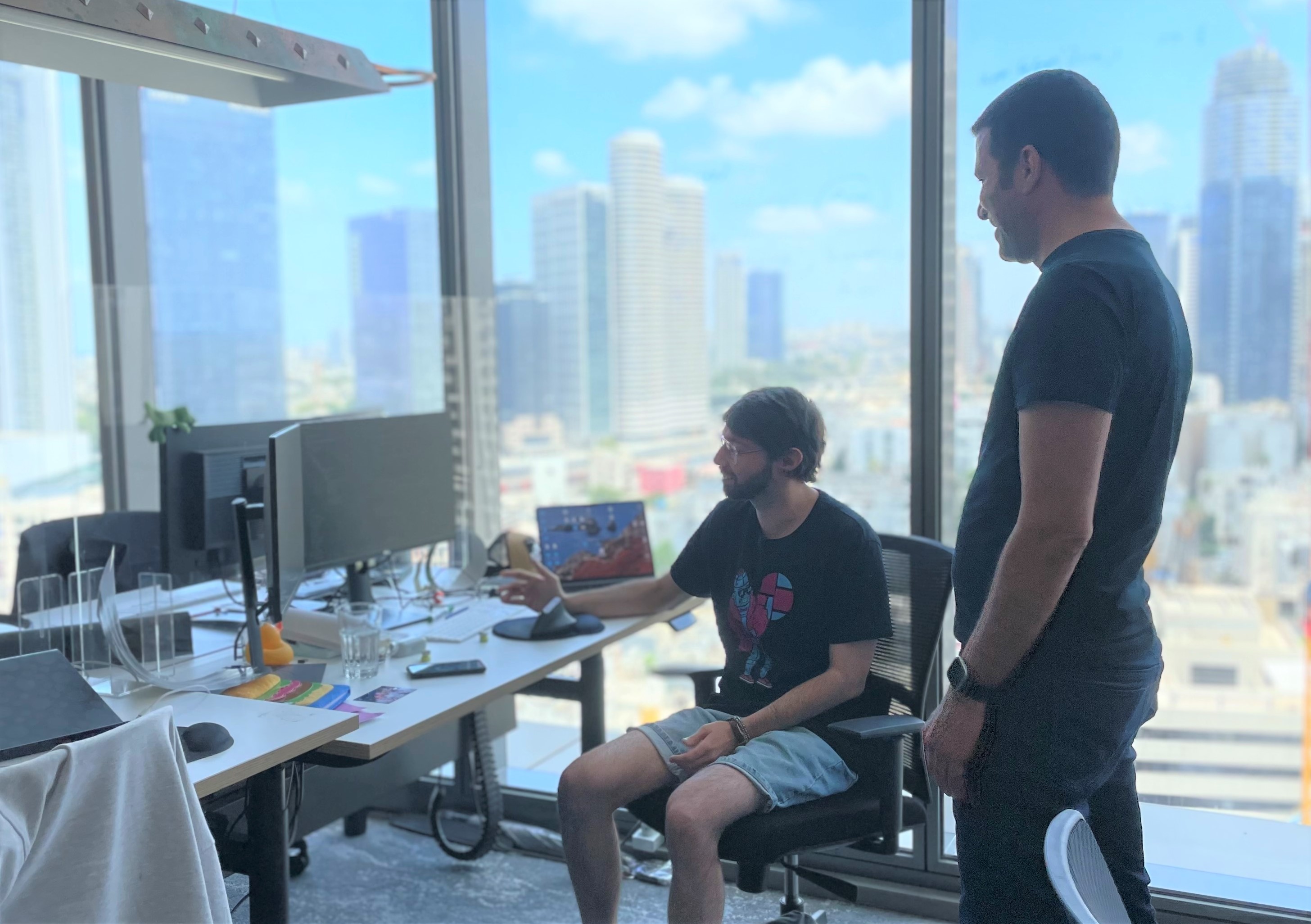 Dynamic Yield CEO Ori Bauer, right, confers with an employee at the company's Tel Aviv headquarters.  (Photo credit: Vicki Hyman)
Growing up in a small town on the outskirts of Tel Aviv, Bauer took to computer programming early, and when he turned 18, was accepted into Mamram, the Israel Defense Forces' central computing services unit for his mandatory military service. (Dynamic Yield's founders, Liad Agmon and Omri Mendellevich, who remain advisers to the company, are also veterans of similar technology units.)
Mamram has been key to Israel's reputation as a startup powerhouse, producing a constant stream of young entrepreneurial-minded software engineers and computer programmers who have turned Tel Aviv into a high-tech powerhouse, with high-rise construction climbing outside Bauer's floor-to-ceiling windows, which offer glimpses of the Mediterranean between the towers. Down the hall, data scientists mix with the sales and support team members in glass-walled offices, many covered with scribbled algorithms and notes in English and Hebrew.
By 22, Bauer was managing a large-scale software development project that would have taken him years to lead in private enterprise. "Even though it's a military organization with their ranks and everything, it has an entrepreneurship type of approach when it comes to computer science," he says. "It really builds up your experience, the way you think about a challenge, your courage to try to do amazing things."
Where hyper-personalization goes from here
Dynamic Yield initially started working with news sites to optimize the placement of stories, for example, or test different images, but that work soon shifted into e-commerce. Today, the company helps businesses not only serve the right content, offers and recommendations but more deeply understand their customers' behavior and context, information that can then be used to  further test and personalize any digital experience on any digital channel.
Its newly launched Experience OS helps teams overcome a major stumbling block — disjointed tech stacks that can't unify disparate data for analysis or deliver personalization quickly and consistently across touchpoints. Dynamic Yield's technology was developed to do just that, and can even serve personalized experiences on the fly. Take a makeup tutorial —  the company can use data on past purchases and even in-the-moment browsing activity to suggest products appropriate for specific skin tones and types. "That seems very tricky because it's live," Bauer says, "but everything we do is in real time."
These recommendations and offers can be based on a user's browsing history, in-session activity, past purchase behavior, location, traffic source and trends seen across the site, with Dynamic Yield's algorithms constantly absorbing new information to adapt its suggestions. For example, if someone visited a bank's website for the first time and immediately searched for a student credit card — when that person returned to the home page, they'd see an offer about a low-fee checking account or a blog post about student loans instead of mortgage rates or advice on retirement planning.
"It's an integration between the physical world and the online world that no one can stop talking about but we will actually be able to deliver."
This type of hyper-personalization is what people have come to expect from digital experiences, Bauer says, although care must be taken to ensure those experiences feel comfortable and not creepy. It's the difference between "They know me!" and "How do they know that about me?!?" For Dynamic Yield, that means collecting and storing data responsibly as well as complying with regulations that require consumer consent, Bauer says.
And while personalization has become an expectation across generations, survey after survey shows Gen Z is far more willing than older demographics to share personal information in exchange for tailored experiences — and Gen Z buying power is only growing. "The younger generation has much less patience," Bauer says. "They want the perfect experience that is relevant for them, because this is how they grew up, with applications like Instagram and TikTok that are already personalizing the experience for them."
Dynamic Yield noticed that demand for personalization was growing beyond e-commerce. While personalization for financial institutions is a natural extension given Mastercard's existing customer base, the company also plans to bring greater personalization to travel and hospitality, packaged goods, grocery and quick-service restaurants that are embracing digital ordering, Bauer says.
"We're going to power personalization across basically any digital interface — emails, text messages, WhatsApp messages, digital kiosks," he says. "You walk into a store and a representative approaches you with a tablet, and if you choose to identify yourself, they can recommend new and hot products that are relevant for you specifically based on your past purchases and affinities. It's an integration between the physical world and the online world that no one can stop talking about but we will actually be able to deliver."