Innovation
How a sonic brand is turning up the volume
June 22, 2022 | By Beth Szymkowski
In a career spanning three decades, Niclas Molinder has worked with the likes of Lady Gaga, Miley Cyrus and Mary J. Blige. But the Swedish songwriter and music producer recently found himself in unfamiliar musical territory: producing an album comprising songs built not around a personality but a brand and its signature sound.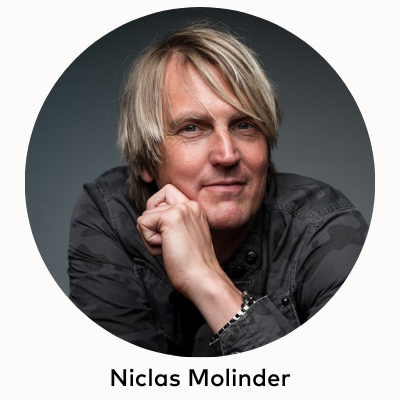 All 10 songs on the album, entitled "Priceless" by Mastercard, include the company's "sonic DNA," heard in advertisements, at sponsorship events and when cardholders tap or dip their card at in-store checkouts. The idea for a sonic signature was conceived by the company's Chief Marketing and Communications Officer Raja Rajamannar, who realized that only a multisensory approach to branding would break through the barrage of messages confronting consumers today.
The  company's first-ever music album is a natural extension, building awareness of the melody and its association with Mastercard — but these aren't corporate anthems, says Rajamannar. "This is an opportunity for up-and-coming artists to use the melody and our platform as a jumping-off point for their own creativity."
Molinder is well aware how incredibly hard it is to break out in the music industry — Spotify's head of music claimed last year that 60,000 new songs were uploaded to the platform every day. Many artists, Molinder says, are on the brink of major recognition but need a final marketing push to cut through the noise. He hopes the "Priceless" project will help do that for them.



To make this happen, he needed to find collaborators. So he dived into SoundCloud and YouTube hunting for musical talent that met his long list of criteria. Diversity and gender equality were important to him, but he also wanted to strike the right creative balance.
"I didn't want to have two, three, four artists with the same style, with the same genre," Molinder says. He wanted voices that sounded good in different keys and musicians who were willing to try something different.
He wound up appealing to artists from around the world. From India, an artist named Tejas  performs the guitar pop number "Down & Out." Algerian-born Raees offers the modern, slow hip-hop track "Je T'aime Mon Bebe" ("I Love My Baby"). Michael Rice, a U.K. artist, sings "Gotta Go Dancing," and Swedish artist Nadine Randle performs the slow-burning "Merry Go Round," released as a single in 2020.
Molinder's original plan was to add the sonic melody to each song once it was completed, but he approached it differently depending on what worked best for his collaborators. One song started with the melody as the chorus. In others, they added it at the end. "But I always had in mind where the sonic needed to be implemented," he says. "I had a clear vision from the start."
In one case, the melody is whistled. In another, it's played on the piano, and in another it's played on a distinctive Iranian stringed instrument. Molinder says if people are listening passively, they might miss the connection, but if they're paying attention, they'll hear it. "It's not obvious, because it's presented in so many different ways."
Molinder photo credit: Knut Koivisto