Blockchain
4 ways women are changing crypto and blockchain
June 29, 2022 | By Deborah Lynn Blumberg
When Deana Burke co-founded Boys Club, a "no bro zone for the crypto curious," in 2021, she wanted to show women how they could benefit from cryptocurrency-related technology.

Their voices are critical to making sure the crypto economy is built to benefit everyone, said Burke and other female crypto leaders who gathered last week to mark the launch of The Belle Block. The group is a new Mastercard-led initiative aimed at bringing more women and underrepresented minorities into crypto and blockchain.
The push to expand inclusion in crypto comes at a time when the industry has developed a reputation as a male-dominated space that's less welcoming to women founders and engineers. Few women are leading the creation of crypto products and services or acting as thought leaders in the space — a December 2021 report found that less than 5% of all crypto entrepreneurs are women — even though more women have started investing in blockchain-powered digital assets such as crypto and NFTs.
The Belle Block — Belle stands for business growth, education, leadership, legal and regulatory, and entrepreneurship — looks to change that scenario and ensure more people can influence the development of blockchain technologies, which crypto enthusiasts believe will have significant implications on how people spend, move value and save money in the future.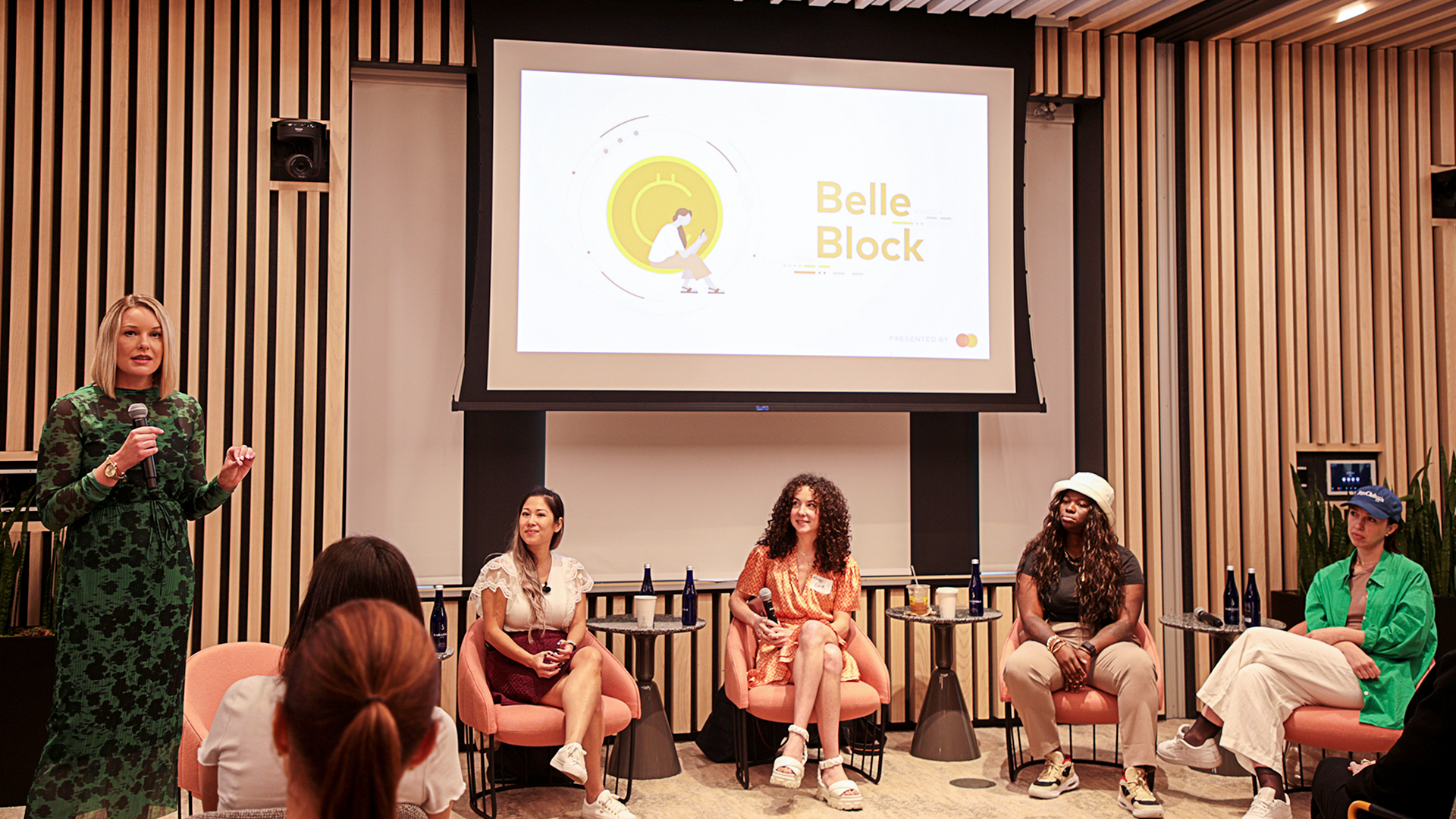 Four crypto founders helped launch The Belle Block, a Mastercard initiative aimed at bringing more women in the blockchain world. From left, Mastercard's Katie Priebe, Cynthia Huang of Blu3 DAO, Maggie Love of SheFi, Candace Stewart of HerHouse and Deana Burke of Boys Club. (Photo credit: Jane Chu)

To claim a stake in this new frontier, women must be part of the conversation today, said Jorn Lambert, Mastercard's chief digital officer, at the launch event at the company's New York City Tech Hub: "It's so important that through initiatives like this we start changing culture."
Led by Mastercard's Grace Berkery, Laluy Garduño and Katie Priebe, The Belle Block is partnering with the founders of groups fostering this type of education and collaboration, including SheFi, HerHouse, Blu3 DAO, and Boys Club, to get more women involved and to develop products that empower women and other minorities.
Here are four key takeaways from the event:
01
More education on cryptocurrency is paramount. "You can't be a bystander in the cryptosphere," said Maggie Love, founder of SheFi. "I want women to be engaged in this new world, and to build and contribute, you need to know the details of how these things work," she said. SheFi runs an interactive bootcamp to get women up to speed on the industry, with lessons ranging from What's an NFT to Becoming a Blockchain Baddie.
02
A culture change is coming. Burke has recently noticed that women who've worked in crypto for years are taking action to ensure all people are represented and contributing to the industry. This year, she said, "feels totally different. There's so much energy and momentum." Still, she pointed out, "A lot of women are looking at this world from the sidelines." Through training and events, Burke and others are working to transform more women from observers into participants.
03
Web3 offers a huge opportunity to rewrite the rules. Web3 is an idea for a new version of the internet powered by blockchain, giving people more control over their web communities. Burke sees Web3 as an opportunity for people with different backgrounds and beliefs to shape what the technology becomes. While cryptocurrencies have been in the forefront the last few years, more people — including women — are now focused on Web3, said Cynthia Huang, founder of Blu3 DAO. In the next two to three years, she added, "the vision of what Web3 is going to look like will be very different."
04
The industry needs more community building and collaboration. Collaboration is essential for crypto to keep growing. For instance, the panelists said that getting people with different backgrounds to work on crucial services like Disco's data backpack, which gives people more control over their online presence, will create stronger, more inclusive platforms. HerHouse co-founder Candace Stewart believes the crypto industry needs to get more women of color involved. "There are still not enough women in the industry who look like me," Stewart said. To foster open conversation, Stewart delivers presentations about the industry in a living-room style where everyone sits together. "Everyone has value," she said, "and we can learn from them."