The creator economy
This young Latin singer is owning her career (with a little help from the blockchain)
March 13, 2023 | By Vicki Hyman

Many emerging artists are so hungry for success that they're willing to say yes to anything. For singer-songwriter Manu Manzo, saying no has its own special power.
"People always want to put things in your head, and you have to trust yourself," the Venezuela-born and Miami-based performer says. "You're an artist for a reason. You have a gift and you are the one that has the ideas. I'm a strong believer that when you are yourself and you fight for the things that you believe in, you attract all the abundance."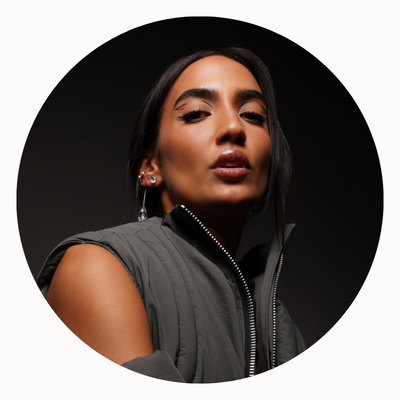 Manzo is one of the first two emerging artists selected to join the Mastercard Artist Accelerator, which teaches independent artists to harness the community-building power of blockchain, Web3 and the metaverse. Mastercard welcomed Manzo and R&B/soul singer and BRIT School alum Young Athena to the program Friday, and Manzo performed and appeared on panels at SXSW over the weekend. Three more artists will be announced in the coming weeks, representing a range of genres and chosen for their unique and diverse stories and sounds.
Fans will be able to access exclusive content from the artists and learn how to use Web3 tools alongside them through a limited-edition Mastercard Music Pass NFT minted on Polygon starting In mid-April.
"If Web1 was about reading on the internet, and Web2 is about reading and writing on the internet, Web3 is about reading, writing and owning — and ownership for artists is especially important," says Sebastian Oddo, who directs Mastercard's Web3 marketing strategy and helps lead the Artist Accelerator program. "We want to bring mentors to the table so artists can learn from them and allow fans to be part of the journey by creating music using the same tools."
What excites Manzo the most about the program is the ability to reach fans in new ways. "Music is connection," she says. "We buy things because they make us feel something. This program gets you a step closer to reaching more and more people."
Manzo, who moved to Miami when she was 11, is the daughter of a director father and an actor mother, and she herself wanted to be an actor when she was young. From an early age, her parents instilled in her a powerful work ethic: "This is fun, but it's also a job. It's not all glitz and glam and all fun and games. You've got to study it. It's a craft."
"I'm a strong believer that when you are yourself and you fight for the things that you believe in, you attract all the abundance."
She graduated from a magnet high school for theater but discovered that her real passion was singing. At a summer program at Boston's Berklee College of Music, "it just clicked for me," she says. "This is what I want to do." After two years studying vocal performance at Berklee, she dropped out to jump-start her career back in Miami, working with a producer to embrace her Venezuelan musical roots and to refine her sound — Latin-infused neo-soul, sung in Spanish.
"It has evolved so much and, at the same time, not so much," she says. "It was very important from the beginning to know myself and where I wanted to go. I took my time to figure out what I wanted. I've been maturing as a person, but the core of it is still the same 19-year-old girl that came back to Miami and started writing music. It's the same little flower, but it just blooms in a different way."
Many of the artists Manzo has most admired — Beyoncé, Shakira — have been able to maintain long creative careers while staying true to who they are. Through social media and technology, artists today have an ever greater ability to maintain their independence and remain true to themselves.
"One of the biggest pros of being independent is you have creative freedom," she says. "You have freedom to explore. You have freedom to fail. Like me as a business — I don't mind failing if it's something I felt in my heart was right."
Banner photo: Manu Manzo performs at the Fast Company Grill at SXSW Saturday night. (Photo credit: Macy Salama)