Inclusion
This Brooklyn lunch spot cooks up career paths for refugees — and a mean biscuit too
January 28, 2021 | By Amy Kover
On any given pre-pandemic Sunday  Emma's Torch, the sunny Brooklyn eatery and culinary school for refugees, would be jammed, crowds lined up for hot chocolate and buttermilk biscuits — a menu item so beloved that "biscuit" was one of the first words uttered by founder Kerry Brodie's young daughter.
Then came what Brodie describes as "the four days in March where time stood still." New York City's COVID-19 infection rate ballooned, the city mandated a reduction in restaurant capacity, and within days Gov. Andrew Cuomo shut down all indoor dining.
Since then, more than 1,000 restaurants in New York City have closed permanently, and the National Restaurant Association reports that more than 110,000 eateries and bars nationwide have gone out of business, taking with them nearly 2.5 million jobs.
With the restrictions on indoor dining back in force, NYC & Company reimagined its NYC Restaurant Week, the beloved twice-yearly event that offers dining deals across the five boroughs, as NYC Restaurant Week To Go. It provides a safe way for consumers to explore their passion for food while supporting the city's dining industry through takeout and delivery. From Jan. 25-31, New Yorkers can enjoy special bargain $20.21 takeout meals from leading restaurants, with the extension at some locations until Feb. 7. As the event's sponsor, Mastercard is offering diners who register their Mastercard a $10 statement credit on each NYC Restaurant Week To Go purchase of $20.21, making it easy and rewarding to dine out and support local.
Emma's Torch, which closed for more than six months but reopened in October, is one of 570 restaurants participating — about 200 more than in years past because NYC & Company, which organizes the event, waived participation fees. "NYC Restaurant Week To Go is a great way for New Yorkers to show civic pride by supporting restaurants and help bring their city back to life," says Fred Dixon, NYC & Company president and CEO.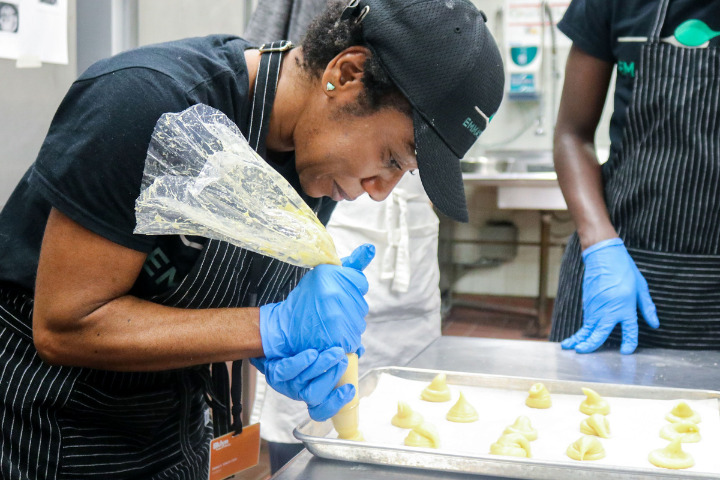 Emma's Torch in Brooklyn reopened in the fall as takeout only, but remains committed to its mission of teaching refugees culinary and hospitality skills. Photo credit: Emma's Torch

That call for action is precisely what made Brodie join this year's event for the first time since Emma's Torch opened in 2016. NYC Restaurant Week To Go is about supporting the whole New York food community, she says. "Success of any one of our restaurants is the success of all of our restaurants."
While many of the restaurants that have survived refocused on takeout and delivery, Emma's Torch — named for the poet Emma Lazarus, whose most famous poem is emblazoned on the Statue of Liberty — refocused on people.
Community engagement is at the heart of Emma's Torch, a nonprofit that provides hospitality training to refugees, asylum seekers and survivors of human trafficking to help them adjust to the American workplace and achieve long-term success and independence.
While the restaurant was closed, Brodie set up online hospitality classes supplemented with lessons on filing for unemployment benefits or accessing free food programs. She also redesigned the curriculum with more attention to food safety and public health awareness. The restaurant reopened for takeout in October, with a plate of plexiglass in front and the dining room replaced by prep tables where students perfect knife skills, roll out dough or sauté veggies at a COVID-safe, 6-foot distance.
"I've learned enough that anything I can think of in my mind, I can figure out how to cook," says Domonique, a current student who found the training program when she Googled "torch" to learn about creme brûlée. "And now my knife skills are up to competition level."